The definition of health tells us about the "Part of medicine that is aimed at health maintenance and disease prevention." Therefore, visual hygiene standards are an easy set to follow, which aim to control the factors that may cause a harmful effect on vision.

Visual hygiene standards help improve visual problems, not solve them com

What is meant by ergonomics?


The vision is a set of skills to identify, interpret and understand what we see. The eyes need more than 17 different functions to read efficiently. More than 35 brain areas are involved in whole or in part in the process of vision.

The development of these visual skills is progressive from birth. Much can be evaluated by a visual inspection to detect specific problems or symptoms, such as:

• Learning problems, strabismus, amblyopia (lazy eye), head trauma, problems focusing, visual perception problems.

• Symptoms such as headache, red or watery eyes, dizziness, low speed or reading comprehension, needing to move the head to read, little ability to remember what has been seen, not having 3D vision, reversing numbers or letters, not keeping the line straight when typing, poor handwriting, diplopic (double vision)...

All these symptoms and problems, among others, can be avoided, reduced or eliminated with good vision therapy treatment. For an effective result the method must be customized and monitored by an optometrist specialized in vision therapy.
In this article we show a table of symptoms, the causes thereof and recommended treatment
Vision is the ability of our brain to understand what the eyes see.

Of the five senses, vision is by default the main source of information to the brain.
The fact that there are alterations in the visual pathway influences different aspects of behaviour of the person. The taste, smell, posture, manual skills and sound change as a function of vision.
In the socio personal area vision has a great role. According to gestures it can be interpreted in one way or another. We look at the other's face to better understand what they're talking about, because lip reading comes before our visual cortex than sound waves to the auditory area.


The receptor organ of vision is the eye, where the information enters and is driven to different areas of the brain, and in these areas other sensory inputs are involved, such as balance and the vestibular system, which help us interpret what we see.
There is a relationship between vision and action. In a normally functioning system, the vision guides the motor system. If there is a mismatch between the visual perception of space and reality, there will be a mismatch with the motor system. Form example, making mistakes when picking up objects, difficulties in sport, etc.


Before developing this section it is important that we differentiate two concepts:

-View: the eye's capacity to see clearly from exactly 6 m.
-Vision: the interrelationship between the eyes and brain. Vision allows us to understand what we see. Vision is learned.

A visual system must have developed different skills to be effective. These skills are developed from birth. They can be classified into three sections:

• Quality of vision: The ability we have to do with sharpness.
It is determined by the assessment of eye health and visual acuity.
Visual problems that affect poor visual efficiency are:

- Refractive errors: visual problems are easier to detect. They alter the normal visual acuity (VA) due to structural factors of the eye (axial length, corneal curvature) or aging of the lens. Are classified as:

- Myopia
• It looks at blur distance vision because the image is formed in front of the retina.
• When prescribing negative lenses, we modify the focal point and place it directly on the retina.
• Their appearance depends not only on environmental factors but also hereditary.
•It is associated primarily to increased axial length of the eye or also a high power optical system of the eye.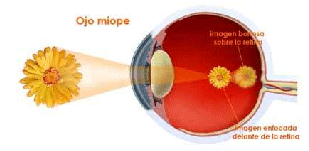 ---